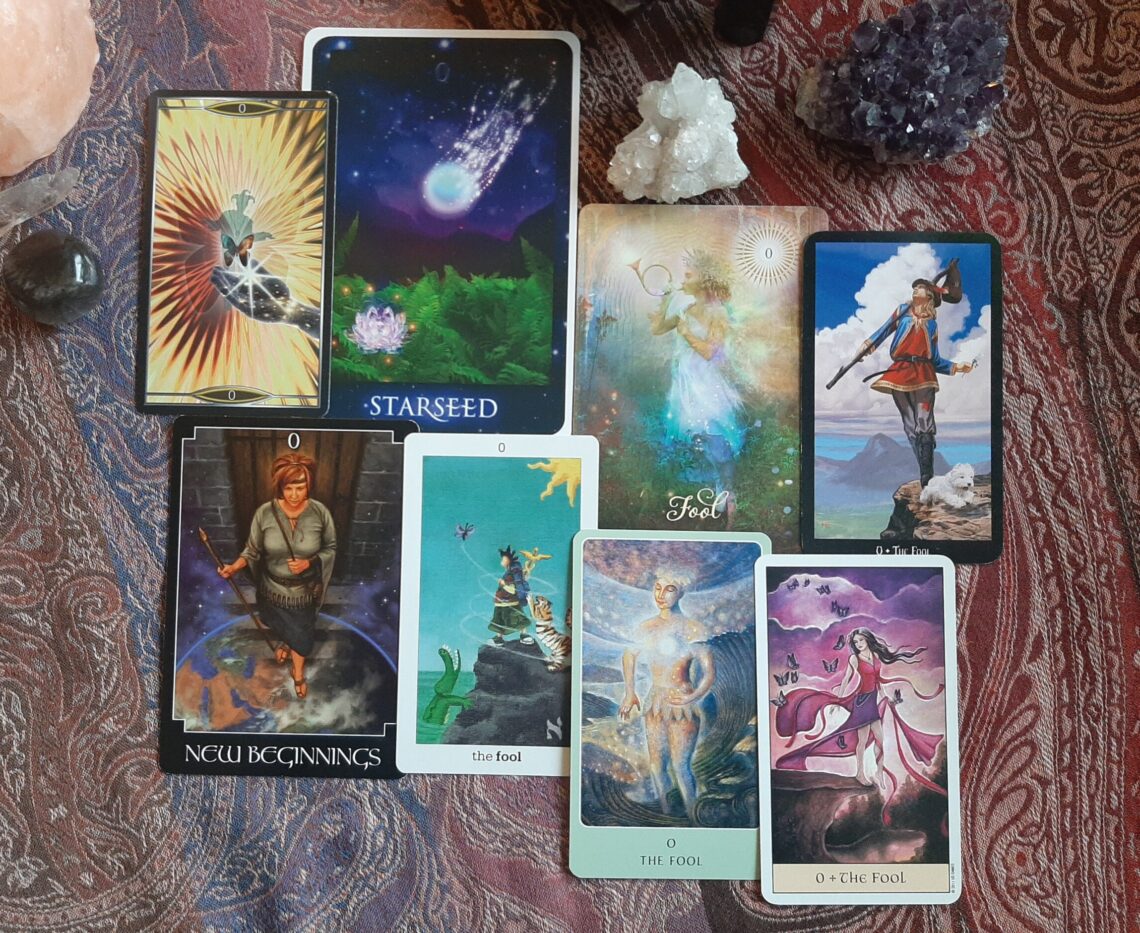 Alla inlägg som hör till tarotkursen finns här.
Den stora arkanan börjar med kort nummer 0, The Fool, Narren på svenska. På bilden som hör till inlägget ser ni hur korten kan se ut i olika kortlekar. Redan där kan man se vilken energi kortet kommer med, men innan vi går in på det så vill jag att ni tittar på de olika korten på bilden. Bland annat ser ni att i alla kortlekar heter inte kortet The Fool, utan vissa kreatörer har valt ett tema på sitt kortlek som tillåter att kortet kallas något annat.
Oavsett vilken kortlek Narren (eller motsvarande kort) hör till, så är illustrationerna ganska lika. Det är ofta så med tarotlekar, konstnären har gjort sin egen tolkning av kortens energi och betydelse. Bara det är en anledning till att i början inte lägga så mycket fokus på att försöka lära sig kortens betydelse utantill. Titta bara på bilden, på det som fångar din uppmärksamhet – det är en del av vägledningen i läggningen.
Kortets energi/betydelse
Kort nummer 0, Narren, kommer med en lite ny energi, en ny början. Det är en energi som är fräsch, glädjefylld, äventyrlig och lekfull, men också lite naiv och våghalsig. Narren är inte medveten om potentiella faror, men känner heller inte till några begränsningar eller låsningar. Kortets energi är den som är full av potential och entusiasm, och brukar uppmana till att nyfiket se sig om efter de valmöjligheter som finns i situationen. Här finns det lärdomar att hämta och tillit att utöva – det är tryggt att bege sig ut i det okända, för det som är menat att hända, det kommer att hända. Ta första steget och nästa kommer att uppenbara sig. Ta ett beslut, så att bollen kommer i rullning och erfarenhet kan skaffas.
Upp- och nedvänt
Om man väljer att använda sig av en annan tolkning för upp- och nedvända kort, så brukar Narren stå för vårdslöshet, överdriven optimism och lite som att leva i en drömvärld.
Notera dock att man inte måste tolka upp- och nedvända kort. Det går precis lika bra att bara vända dem rätt och tolka därifrån.
Tolkning, symbolik och numerologi
Det kan vara jättesvårt att veta exakt hur man för in den där betydelsen i en faktiskt tolkning i en skarp kortläggning. Min erfarenhet säger att det är mycket viktigare att lyssna till sin intuition och känsla än att komma ihåg vad kortet betydde och lista ut hur det kan tillämpas i läggningen.
Titta på kortet. Titta på hela kortet, alla detaljer. Vad står ut? Vad dras blicken till? Hur känns det i kroppen? Vilka tankar rör sig i huvuet? Vad associerar du kortets detaljer med? Allt sånt är en del av läggningen.
Det är viktigt att komma ihåg att korten inte är magiska – DU är. Magin skapas av dig och genom dig. Guiderna gör sitt bästa för att du ska bli uppmärksam på det som är av betydelse i just den läggningen just då. Så dina associationer och tolkningar är viktigare än någon annans.
Om man inte lyckas skramla fram någon form av tolkning genom att bara lyssna på intuitionen, så går man vidare till de traditionella betydelserna av kortet och dess symbolik. Man tolkar konsten, man kanske kollar den numerologiska betydelsen av kortets nummer, man kanske tolkar färger etc.
Frågor och kommentarer
Berätta gärna i kommentarerna vad ni har för kortlek att träna och testa med. Hur ser Narren ut i den kortleken? Stämmer känslan med betydelsebeskrivningen här ovan?