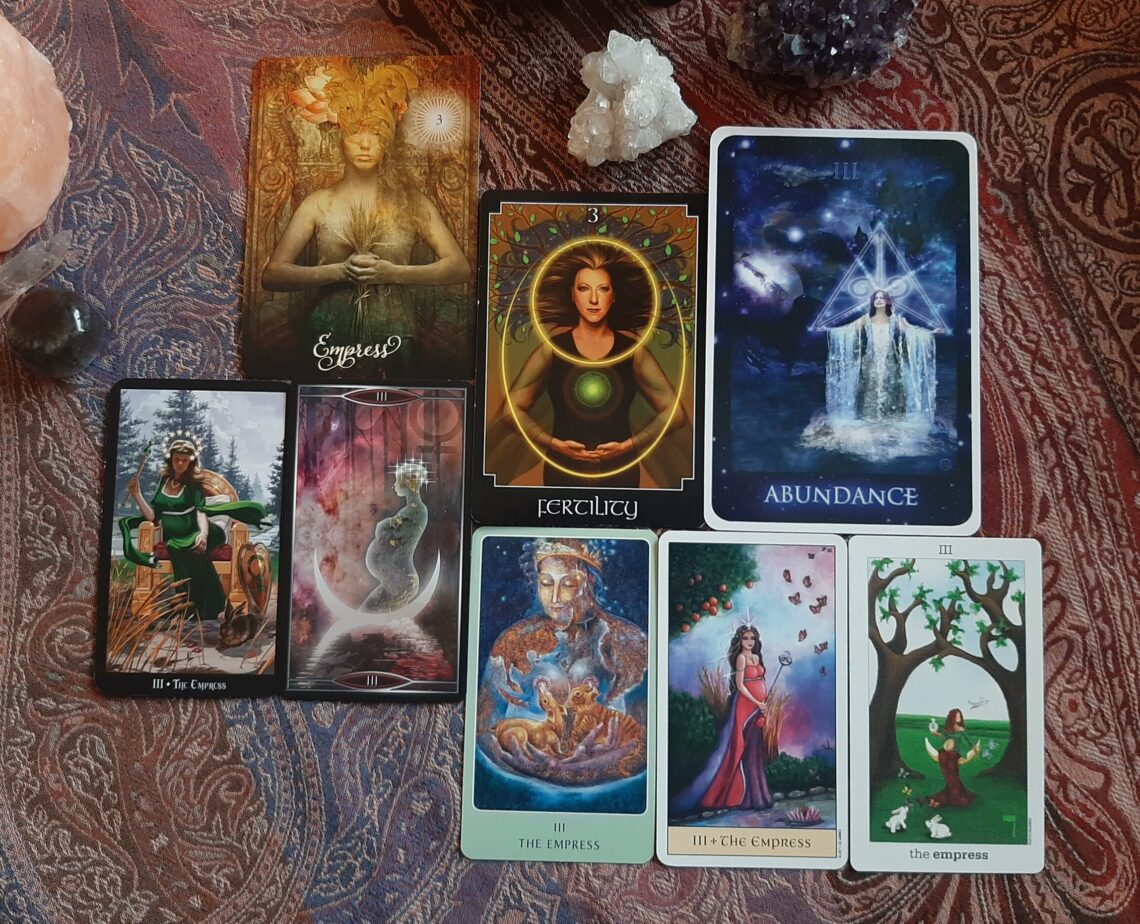 The Empress – Kejsarinnan
Alla inlägg som hör till tarotkursen finns här.
The Empress, Kejsarinnan, representerar feminin energi och avbildas ofta höggravid, gärna tillsammans med venussymbolen eller månen. Mogen frukt eller skördeklar säd är också vanliga på Kejsarinnans kort.
Kortets energi
Energin som Kejsarinnan kommer med är som sagt femininitet, men också överflöd, tillväxt, fruktbarhet/fertilitet, attraktion, sexualitet, natur och naturlighet. Kortet påminner om Moder Jords skapande kraft och visar hur vi själva har förmågan att skapa. Här finns en påminnelse om att vårda det som är skapat, det som växer, på samma sätt som en mamma vårdar sitt barn. Kreativitet, intuition och visdom är också delar av Kejsarinnans energi.
Upp- och nedvänt
Den upp- och nedvända Kejsarinnan kan tolkas som lat, ytlig, egoistisk och promiskuös.
Tolkning
Nummer tre i numerologi står för bland annat utveckling, expansion, överflöd. Kvinnan som avbildas på kortet ser ofta trygg och nöjd ut, hon vet exakt vilken skapandekraft hon har. Växtlighet och tecken på rikedom är synliga på så gott som varje kort. Allting ser stabilt och självsäkert ut.
Betydelsen av de djur och växter som finns på en del av korten kan med fördel kollas upp i Solögas böcker om växternas och djurens språk.
Frågor och kommentarer
Ställ gärna frågor i kommentarerna om ni har sådana. Allmänna tankar och åsikter om den här "lektionen" är också välkomna.
Du som vill ha e-postuppdateringar varje gång ett nytt inlägg publiceras kan skapa en prenumeration genom att ange din e-postadress i menyn här.