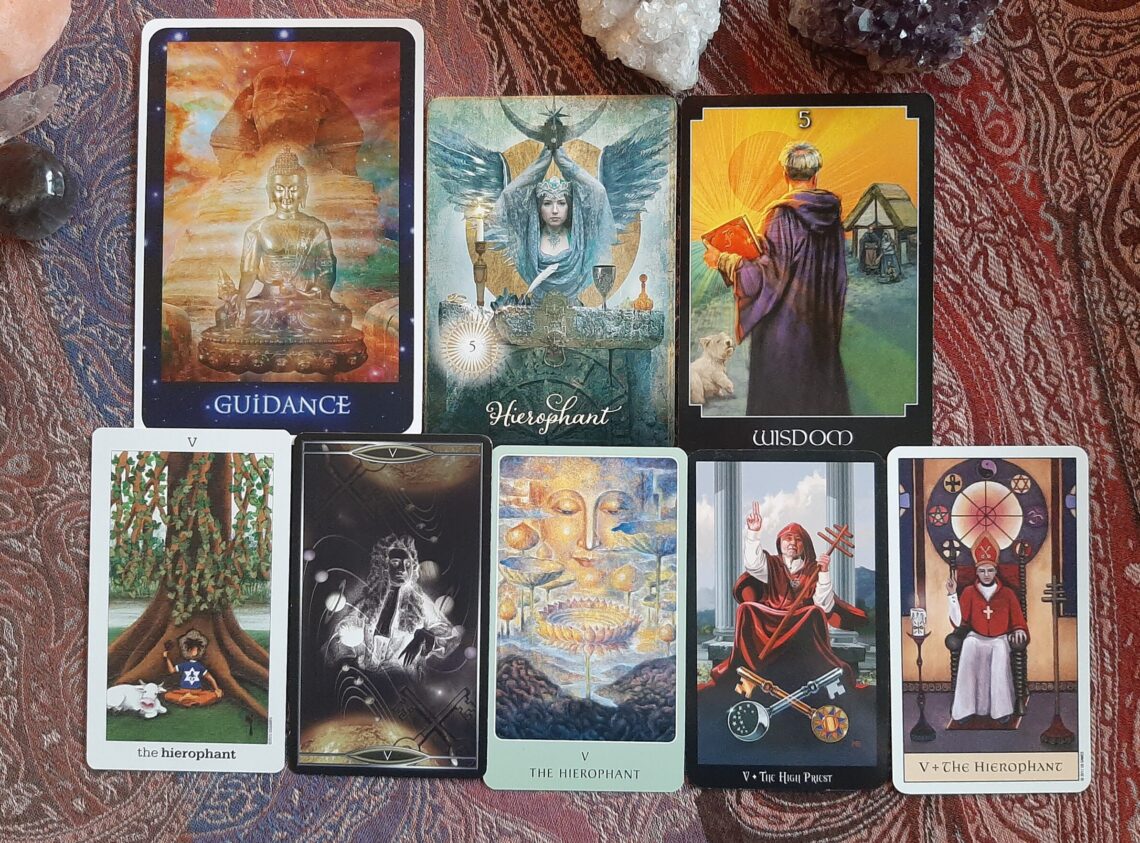 The Hierophant – Översteprästen
Alla inlägg som hör till tarotkursen finns här. Läs gärna de andra inläggen också, för att få en helhetsbild av hur man kan lägga och tolka kort.
The Hierophant, Översteprästen, kan vara ett knepigt kort att få ett grepp om. En del kortlekar (och lärare) menar att kortet handlar om att följa traditioner och/eller vikten av att ha en andlig/religiös praktik. Andra kortlekar (och lärare) menar istället att kortet handlar om att att hitta sin egen visdom, att vända sig inåt (lite likt The Hermit) för att hitta svar och inre visdom.
För mig är det ganska tydligt att kortet uppmanar en att göra både och. Kanske har det mest att göra med min egen syn på utveckling och andlighet, men för mig representerar kortet den dualitet som är att vara lärare och elev. Man kan vara lärare samtidigt som man lär sig. Man kan utforska samtidigt som man är strukturerad. Och det är viktigt att vara ifrågasättande och känna efter – vad är rätt för mig? Ska jag ta till mig lärdomar exakt som de lärs ut av traditionen eller ska jag plocka delar och göra dem till mina egna?
Kortets energi
Om man tittar på de kort på bilden som inte benämner sig som The Hierophant, så ser man Wisdom och Guidance (The High Priest är i princip detsamma som Hierophant). Visdom och vägledning är två ord som perfekt sammanfattar kortets energi. Kortet representerar lärande och kunskap, främst inom andliga traditioner. Översteprästen är informativ, ger instruktioner och delar med sig av sitt kunnande. Kan ibland uppfattas som lite trångsynt och traditionsbunden och kan ibland uppmana till fritt utforskande och bildande av egna uppfattningar.
Upp- och nedvänt
Översteprästen upp- och nedvänd syftar på önskan att röra sig bort från dogma och traditioner, oviljan att befatta sig med organiserad religion och längtan efter frihet.
Tolkning
Bilderna på de olika korten varierar väldigt i utformning. Ofta finns en man med på bilden som representant för Översteprästen. Ibland, speciellt i äldre kortlekar, är det påven eller en annan kristen figur. Ofta finns verktyg för ritualer synliga för att representera att saker sker i en viss ordning på ett förutbestämt sätt.
Var köper man tarotlekar?
Om du ännu inte har en egen tarotlek, så finns det att köpa i min webbshop www.kreativakristaller.se. Just nu är några av kortlekarna nedsatta i pris.