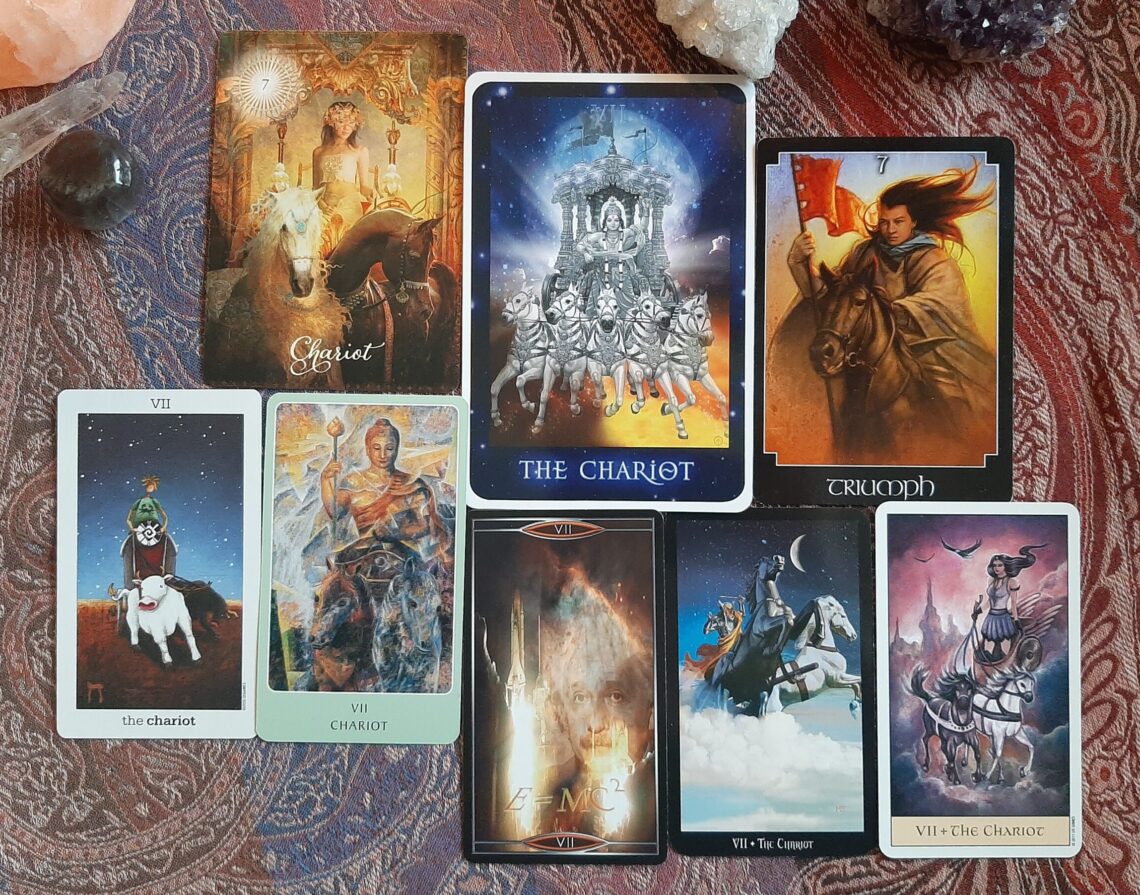 Samtliga inlägg som hör till tarotkursen finns här. Läs gärna de andra inläggen också, för att få en helhetsbild av hur man kan lägga och tolka kort.
Nästa kort i tarotleken är The Chariot, Vagnen. Kortet har många olika aspekter och kan ibland kännas svårtolkad. Vagnen är menad att symbolisera en mognad eller ett mål som har uppnåtts, en strid som är vunnen, ett uppdrag som är avklarat. Bilderna talar dock ofta om en pågående resa, en jakt som är i full gång och ett färdmedel som man kanske inte alltid har så stor kontroll över. Visst kan det bli förvirrande.
Kortets energi/betydelse
Energin som kortet kommer med är en självsäker en. Det är fokus, målmedvetenhet och tillit att även om man inte har kommit hela vägen fram, så kommer man att nå målet och det kommer att finnas anledning att jubla. The Chariot är ett kort som handlar om rörelse och aktivitet, om att göra jobbet (eller ha gjort jobbet) och få ett erkännande för det. Vagnföraren vet att lyssna inåt på den vägledningen som intuitionen tillhandahåller, vet att det kommer att lösa sig på ett eller annat vis, bara man fortsätter att röra sig framåt. Man ser de svårigheter man har klarat av och man ser hur vissa delar av resan bara gled på.
Upp- och nedvänt
En upp- och nedvänd tolkning kan vara att man drar fram hänsynslöst och skyr inga medel för att nå sina mål.
Tolkning och symbolik
Nummer sju i numerologin står för framgång, tillit, kunskap, visdom, ledarskap, mästare. Hästar finns ofta avbildade på The Chariot, och hästar brukar förknippas med frihet.