Inlägget innehåller reklam genom annonslänkar för Bokus.
Det är många som frågar vad det är för kortlekar jag använder när jag gör kortläggningar och var jag köper dem ifrån, så jag tänkte berätta lite om mina kortlekar.
För att köpa tarot- eller orakelkort måste man inte söka sig till mystiska små butiker som ligger undangömda på någon sidogata med sin påtagliga doft av kryddig rökelse. Det går ofta att hitta kortlekarna i en vanlig, välsorterad bokhandel också – speciellt om det är en nätbutik.
Det finns både tarotkort och orakelkort. Skillnaden mellan dessa är egentligen bara att tarotleken har en specifik struktur, medan orakelkorten kan variera till antal, utseende och uppbyggnad.
En tarotkortlek innehåller 78 kort och är uppdelad i stora och lilla arkanan, där lilla arkanan sedan är uppdelad i fyra sviter. Det finns traditionella och moderna varianter av tarotlekar – korten har alltid samma namn i den traditionella varianten, medan de moderna kan variera ganska mycket i sina benämningar, även om strukturen och betydelsen av korten behålls.
Själv har jag ingen regelrätt tarotlek för tillfället. Jag har haft några olika, som har stannat i korta perioder, men jag har aldrig fastnat för någon på samma sätt som jag gör med flera av orakelkorten. Jag brukar inte riktigt komma överens med traditionella tarotkort.
Jag har ett par moderna varianter dock, kortlekar som är lite blandning av tarot- och orakelkort.
The Psychic Tarot Oracle Deck
Min allra första kortlek köpte jag våren 2013. Den är uppbyggd som en tarotlek, med stora och lilla arkanan, dock med några färre kort än är brukligt. Korten har ungefär samma betydelse som i den traditionella leken, men de har andra namn. Det finns dessutom ett tillägg av chakrakort.
Jag har många fina minnen med denna kortlek och vi känner varandra väl. Det var trots allt denna jag lärde mig med.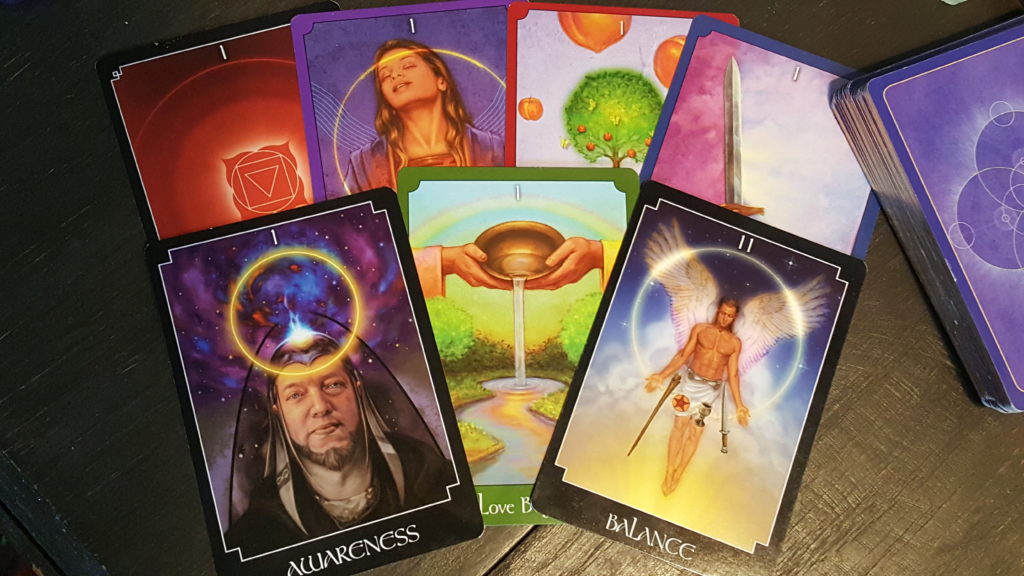 Birkan's Deck of Intuitive Answers
I samma veva beställde jag även dessa orakelkort med mycket vackra illustrationer. Jag fick vänta länge på att korten skulle komma.
Det här är en kortlek jag verkligen gillar och väljer den ofta när jag ska göra läggningar. Bilderna är så vackra och vi, kortleken och jag, har en ganska djup förbindelse.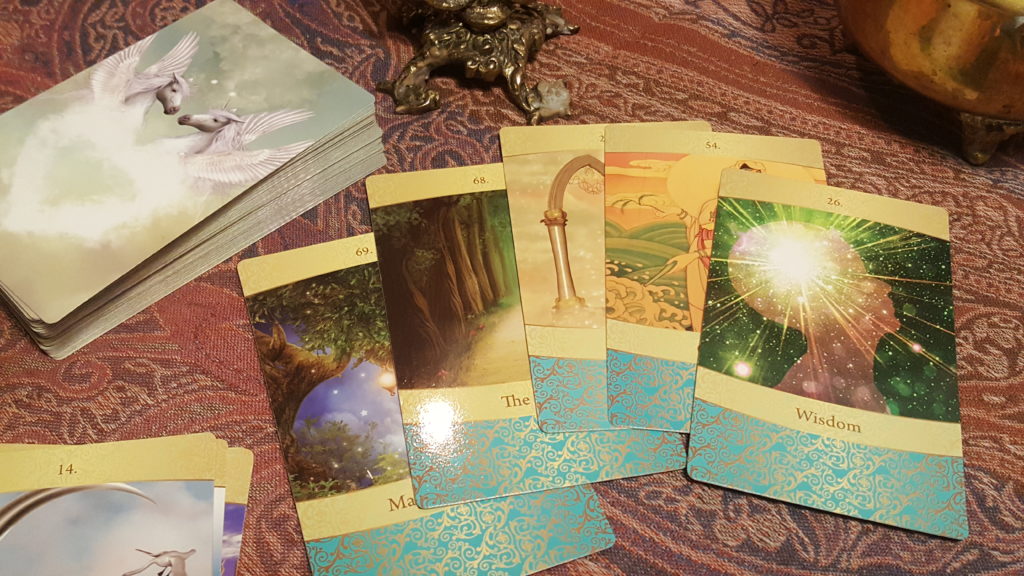 Jag har många fler kortlekar att berätta om, men jag känner massivt motstånd att skriva om alla dem i samma inlägg (jag har försökt i ca två månader nu), så jag delar upp det i flera inlägg och berättar om ett eller två kortlekar per inlägg. Det finns alltså fler såna här att se fram emot!
Den som är det minsta intresserad av att testa tarot- eller orakelkort, uppmuntrar jag att prova lite. Köp en kortlek och känn dig fram. Man måste inte ha några förkunskaper och man måste inte betrakta sig som medial. Alla kan använda sig av kort.
Det verkar som att Birkans orakelkort inte längre finns att köpa, men The Psychic Tarot Oracle Deck finns att köpa hos Bokus. Klicka på bilden nedan för att komma direkt till beställningssidan.