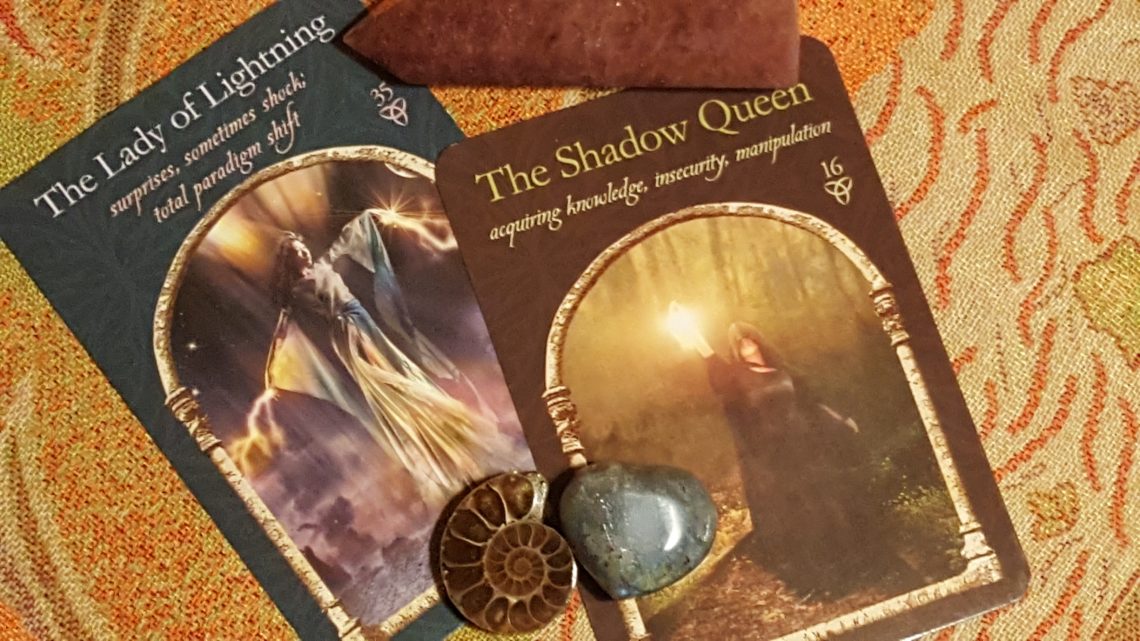 Tisdagskort – inför fullmånen
Tidigt i morse fick jag signaler om att det är dags att göra en kortläggning igen. Knappt hade morgonkaffet hunnit svalna till drickbar temperatur när jag i mörkret började förbereda för läggning.
Två kort blev det idag. The Lady of Lightning hade mycket bråttom ur leken och bokstavligen hoppade ner på bordet. The Shadow Queen tog tid på sig, väntade en god stund med att visa sig.
De energier som fullmånen kommer med är sprakande. Ett dovt trummande som talar om förändringar – ibland drastiska och plötsliga sådana.
Kanske har vi blivit satta i en "sink or swim"-situation. Detta för att vi ska ges möjligheten att förstå hur bra vi är på att simma, om vi väljer att göra det, för att vi ska lära oss att att vi verkligen har förmågan att höja oss över situationer.
Den förändring som nu är på ingång (om inte redan pågående), sker med gudomligt stöd. Den förändringen kommer från ljuset. Den har stöd av månen med sina feminina energier, och den har stöd av flera galaktiska kollektiv.
Det finns ingenting att vara orolig för. Ljuset omger oss, även när det stormar och blixtrar.
Det är en känslosam måne imorgon. Hämta kraft och motivation från känslorna som trummar i takt med fullmånens energier. Använd dem för att kraftfullt rikta den aktion som behövs.
Wield your magic.
Det känns som att en del av förändringarna, som för länge sedan är satta i rörelse, handlar om att sprida ljus i mörkret – att belysa det som är gömt, informera om det som har legat i det dolda. Det är dags att ta fram allt sådant som ligger och skaver så obekvämt.
Låt ditt inre ljus skina.
De båda korten förmedlar tydligt att vi har all kraft inom oss – och det finns så mycket mer där än vi tror.
För information om hur du kan få en personlig kortläggning, se Priser & bokning i menyn högst upp på sidan.