Vägledning till alla som läser
Tidigare idag gjorde jag ett inlägg på Kreativa Kristallers facebooksida med en sån där snabbvägledning som är populärt på alla möjliga andliga sidor. Nu när jag har publicerat tolkningen så kändes det viktigt att lägga upp budskapen på bloggen också.
Meningen är alltså att man ska välja det kort (i rubrikbilden här ovanför) som man dras mest till – 1, 2, 3 eller vänster, mitten, höger – och sedan läsa vägledningen som hör till kortet.
Här kommer vägledningen och den gäller för alla som läser inlägget och väljer ett kort.
Om man istället vill ha en personlig vägledning så finns det några lediga tider i helgen som man kan boka. Priset för allmän vägledning är sänkt till 100 kr veckan ut, resterande läggningar sker till ordinarie pris. Prislista finns på https://www.kirsi.se/tarot/priser-bokning/
Knight of Cups
Följ ditt inre ljus.
Många av oss bär på den där romantiska bilden av en "knight in shining armour", att någon ska komma och rädda oss från allt som är jobbigt, att det är någon annan som ska komma och göra livet lättare för oss. Vi har fått lära oss att det alltid är en person utanför oss själva, så vi tror att det måste vara så. Men tänk om vår räddare i nöden finns inom oss? Att lägga den tilltron och det ansvaret på någon annan leder inte till en pålitlig och hållbar verklighet. Titta istället på dig själv, din egen styrka och din förmåga. Hur underbar är inte den? Du har på egen hand vadat dig igenom alla livets upp- och nedgångar. Fortsätt följ ditt inre ljus. Du själv har den förmågan och styrkan som du behöver.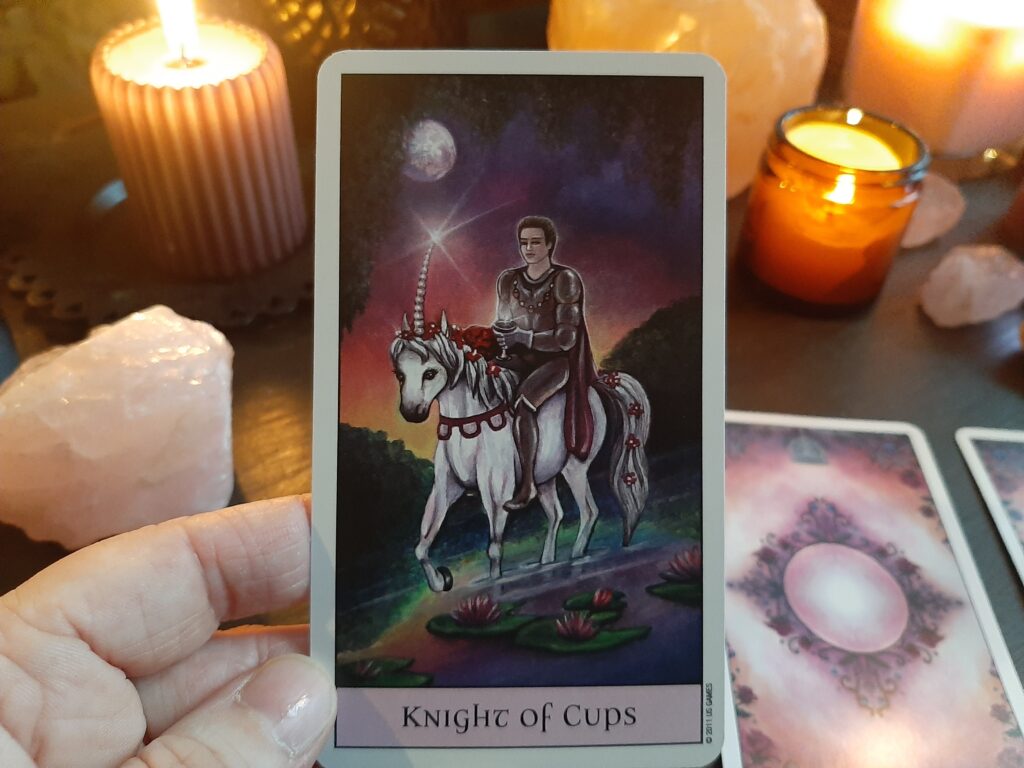 Queen of Cups
Andas en stund.
Det känns som att en god stunds vila är välbehövlig just nu. Som om en totalt utmattad kropp endast hålls uppe av adrenalin och behovet, tvånget, att gå vidare. Det känns som att du har kämpat hårt och länge med att få situationen att fungera. Nu kommer äntligen en tid då du får utrymme att pusta ut. Passa på att ge dig själv beröm för det enorma jobb du hittills har gjort. Kanske känns livet ganska överväldigande just nu. Känslorna är "all over the place" och det känns lite för tidigt att ta ut segern och våga vila. Det kan vara svårt att se vilken enorm triumf situationen ändå är. Tillåt känslorna – skratta, gråt, andas ut och var stolt. För du har klarat dig igen den värsta biten.
Page of Swords
Du är redo.
Du är färdig nu. Du besitter tillräckligt med kunskap och förmåga för att gå vidare till nästa steg i din plan. Låt inte rädslan för misslyckande eller andras dömande vara ett hinder på din väg. Ditt hjärta säger åt dig att gå, att ta nästa steg – alltså är det rätt för dig att göra det. Ditt perspektiv är rätt för dig, det är det som gör dina förmågor och din situation unikt. Låt idéerna flöda. Tillåt kreativiteten in i ditt hjärta och uttryck dig på det sätt som faller sig naturligt. Det är dags för nästa steg i planen. Du är redo och du behöver inte ha någon annans tillåtelse eller godkännande att gå vidare på din väg.