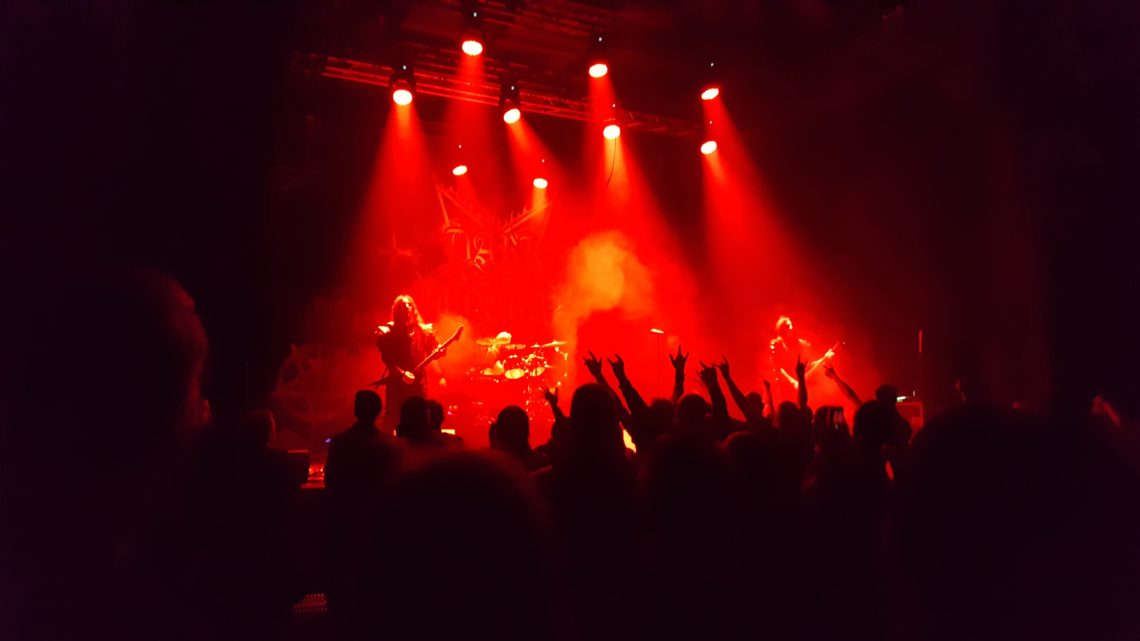 Halloween Meltdown i Eskilstuna
Igår besökte vi Lokomotivet i Eskilstuna för dag två av minifestivalen Halloween Meltdown.
Under en ganska lång tid har jag letat efter något musikevent som jag och sonen kan besöka tillsammans. Vi är sällan överens om vad som är lämpliga tillställningar för oss båda, men det här var ett som tilltalade sonen enormt utan att avskräcka mig helt.
Sonen ville ha med en kompis och jag valde att ta med mig sällskap också – mycket för att hålla min ångest under kontroll. Så vi var två nästan-40-åringar och två 17-åringar som i lånad bil brummade iväg till Eskilstuna på lördagkvällen.
(Jag har verkligen de underbaraste människorna runtomkring mig, såna som osjälviskt lånar ut sin bil och såna som utan vidare följer med som stöd och sällskap till ställen. Jag ville bara berätta det och poängtera det. Fina, fina människor.)
Vi var på plats tio minuter innan dörrarna öppnades och var näst längst fram i kön – en liten kontrast mot alla de event jag besökt med dottern, där köändet börjar tidigt på morgonen och om man kommer tre timmar innan dörrarna så får man räkna med två kilometer kö.
Av de fyra band som spelade – Doppälgängär, The Dahmers, Carnal Forge och Dark Funeral – var The Dahmers min klara favorit. Jag gillade musiken och jag gillade energin och närvaron på scenen.
Ungdomarna var mest där för Dark Funeral, som skulle vara riktigt bra. De stod framme vid scenen och head-bangade – vilket i sig var en ganska underhållande syn – och hade det roligt.
Jag köpte en snygg tygkasse, så nu kan jag gå till Ica och känna mig metal när jag handlar.