Jag ville bara visa vilken underbar humor den där ungen har. Och hur omtänksam han är. Han är min bästa humorvän!
You are learning well, my young padawan.
Sms:en mellan mig och sonen är ofta av den karaktären att en alltid riskerar att kissa på sig av för mycket skrattande. Igår, till exempel, skrattade jag så mycket att jag har träningsvärk i magen. Vi har så mycket interna skämt och referenser till alla möjliga humoristiska situationer, att trådarna kan pågå i evighet.
Min telefon var på laddning i sovrummet, så jag hörde inte när spammandet började:

Omtänksamheten kommer in här. Notera justeringen av stavning, när han kom på att jag ogillar slarvigt skrivande:

Jag älskar begreppet "spamma som om det inte fanns någon morgondag", som fanns med på denna lista.

När jag efter 26 nedräknings-sms fortfarande inte hörde att telefonen härjade, kom han rusande in i vardagsrummet: "Men kolla dina sms!" Jag svarade på hans fråga, som var dold bland spammandet utan morgondag (dvs 35 nya meddelanden!)
Och sedan fortsatte det…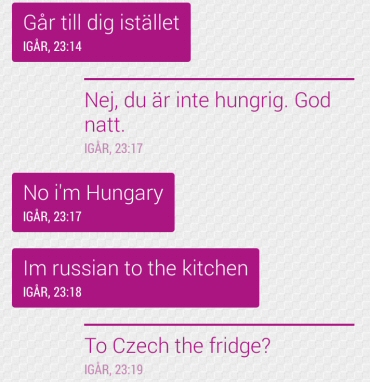 Ibland hittar vi skumma emojis och då kan det komma en fråga som: "Vad är det där? Är det menskoppar? Mamma, jag skickade menskoppar till dig." Feministen i mig är väldigt (VÄLDIGT) stolt över att den 14-åriga sonen vet vad en menskopp är.

Ibland sjunger vi Circle of life.

Och sedan drar det igång igen…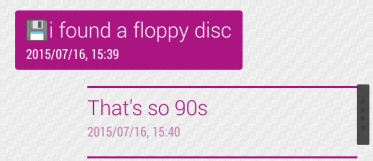 Det händer att sonens hjärna går igång på något, och så kommer det flera kilometer långa redovisningar om the train of thoughts. Kan inte annat än älska hur den där hjärnan fungerar.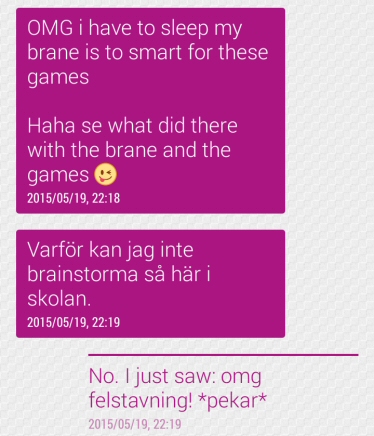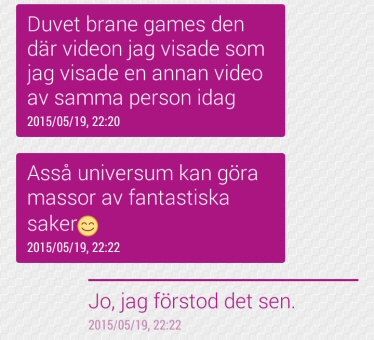 Någon gång är det nästan "normal" nivå på samtalen också:


Ibland pratar vi finska.

Jag har fått tillåtelse av ungen att publicera dessa sms, så var inte oroliga. 🙂