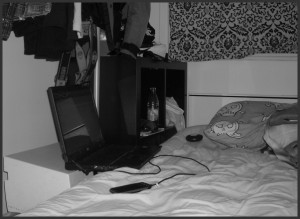 Sova på internet?
För andra gången under min sjukskrivning har jag flytt till syrran i Säter och installerat mig i hennes garderob. I lördags packade jag Superseaten med det viktigaste; datorn, luftmadrassen och ett gäng chokladbollisar, och drog iväg så däcken tjöt (nå, nästan i alla fall). Den här gången brydde jag mig inte ens om att dubbel- och trippelkolla att jag verkligen hade allt med mig.
Varför? För att jag inte tål att vara hemma. För att ångesten stiger i takt med att väggarna kryper närmare. Kaoset i lägenheten speglar sig till kaoset i mitt inre och jag får panik. Jag känner att jag inte får luft och kommer säkerligen att dö om jag inte lämnar platsen omedelbart. Jag har tur som har en syster som bor på en sån lagom avstånd och som inte har något emot att jag använder garderoben som fristad var och varannan vecka. (Eller vänta nu, det kanske hon har? Jag kanske är jättejobbig att ha som nattgäst? Jag måste kolla med källan.)
Det är så skönt att vara här. Det känns som rena semestern! Här kan jag andas (såvida jag inte har glömt allerigmedicinen) och är fri från tvång och begränsningar. Här kan jag få känna mig nyttig, utan någon som helst press. Framför allt, här får jag umgås med åtminstone ett av mina syskon och hennes fästman.
Vidare bestämde jag mig nyss för att döpa om min blogg till bara 'kirsi.se' Det kändes som att ordleken med 'Inuti kirsi.se' var gammal och barnslig. Så nu när jag bara är gammal är det nog lämpligare att minimera barnsligheten till de tillfällen den verkligen behövs. 🙂 Förhoppningsvis ska jag snart också få till en liten uppdatering på presentationssidan.
Nu ni, ska jag försöka somna till ett par avsnitt av 'Sex and the city'. Blev övertygad om att den serien är väldigt bra att titta på när man mår lite dåligt. efter en säsong kunde jag hålla med. 😉
Natti.