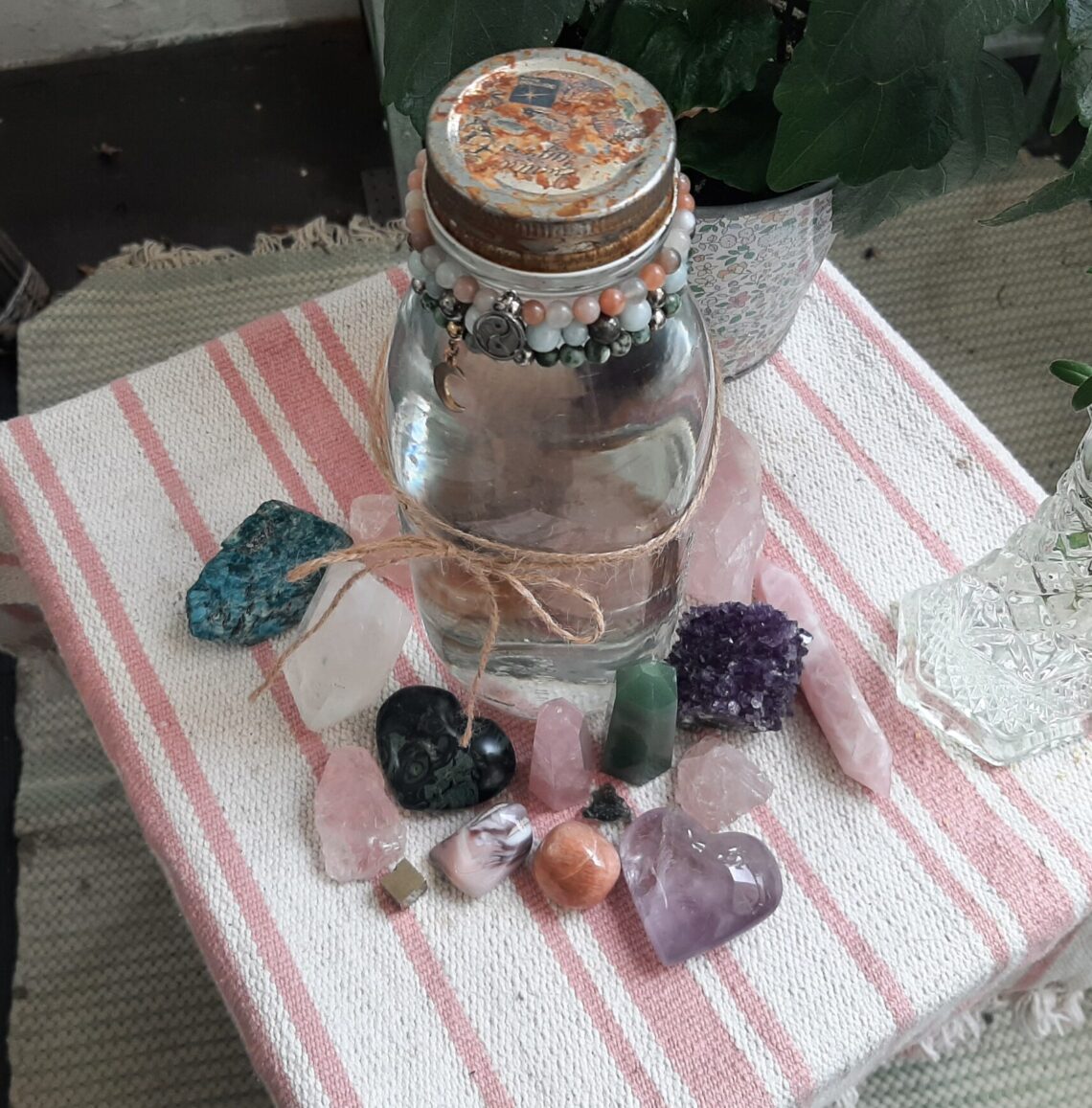 Mörkermåne & nymånesvatten
Under hela veckan har energierna assisterat oss och förberett för det som skulle släppas under mörkermånen. Genom 7-7 portalen i onsdags, som tillförde djupa insikter på själsnivå och lite la grunden för den kommande lion's gate, till mörkermånens frigörande energier igår.
Jag skrattar lite för mig själv när jag inser hur tydlig påverkan dessa energier har haft i mitt liv. Det började i måndags med en kraftig mens och ett tydligt behov av frigörelse och att lyssna inåt. Symboliken i det är slående.
Veckan har sedan bjudit på ett ganska varierat kaos av känslor, tankar, rädslor och funderingar som har cirkulerat runt i stadiga cykler. Mycket saker från det förflutna har dykt upp, som sedan har triggat rädslor för upprepande och så vidare.
Det är ganska fascinerande hur medveten jag kan vara om hur och varför ett tankekaos pågår, men ändå vara helt oförmögen att ta mig ur och lugna ner hysterin på egen hand. Rädslor och andra irrationella tankespöken har en märklig kapacitet att ränna runt och skapa bekymmer. Tur är det ju att jag har så många fina vänner som är villiga att hjälpa och stödja. Jag är väldigt tacksam för de som är min tribe, så att säga.
Allting kulminerade igår, under mörkermånen (som ju är en dag eller två före nymånen dyker upp). Jag brukar aldrig annars lägga märke till mörkermånen, men nu var den så tydlig med sina energier. Först på eftermiddagen sa en vän att det är okej att känna sig trygg och vettskrämd samtidigt, så det lugnade ner alla märkliga och obekväma tankar som for runt. Jag vill lite måla de orden på väggen. Har plats för det och allt.
För visst är det så, visst kan motsättande känslor existera samtidigt. Visst är ett naturligt känsloflöde varierande, förvirrande och motsägande. Det finns ingen anledning att göra motstånd eller försöka styra eller sålla. Låt dem flöda. Låt dem vara. Njut. Njut av att kunna urskilja flera olika känslor ur något som mycket väl kunde vara en enda formlös klump. Njut av orsakerna till att dessa känslor ens uppkommer. Njut av att vara i nuet, när de existerar, utan att lägga några förhoppningar eller rädslor på det som (kanske) kommer.
Sedan på kvällen stötte jag på nedanstående text som bara la allting på plats. Det kom en sån överväldigande känsla av meningsfullhet. Den här texten är så laddad med häxors energier, med förmödrars krafter genom tid och rum. Så himla kraftfullt att få känna det.
"As the moon disappears from the summer night sky, we now experience the Dark Moon. Now is the time for stillness, contemplation and banishment.
Tonight's Dark Moon in Cancer tends to bring out irrational thoughts and heightened emotions. Childhood nostalgia and dramatized memories of broken hearts will be prevalent. It's the perfect night to stay home and cook a comforting meal. Be easy on yourself and those around you.
And so, tonight, we transition out of our old ways of being. We ripen. We mature. We are more confident with ourselves and the world around us. We know what we want. And just as important, we know exactly what it is that we don't want.
We let go of procrastination. We let go of fear. We let go of the judgments from others. And most importantly, we let go of what no longer serves us.
Tonight, we banish."
Jamen så klart. Så klart har både kroppen och själen grävt runt i den gamla ryggsäcken och plockat ur saker som inte längre behövs. Vissa saker förde med sig smärtsamma minnen som förlängdes till framtidsoro. Andra saker kunde hanteras kärleksfullt med nostalgi och tacksamhet. Deras hoppfulla frön såddes sedan för framtiden att ta hand om. Genom hela processen har min styrka stabiliserats.
Igår blev jag påmind om min egen styrka och kraft. Jag är stark och kapabel att hantera saker själv. Jag är också stark och kan välja att släppa in andra och ta hjälp av dem. Jag kan låta universum röja undan hinder och bara följa med dit strömmen bär. Min kropp bär på en visdom som intellektet inte kan förstå, men så länge jag inte sätter upp motstånd och hinder, och bara lyssnar, så blir allting bra till slut.
Idag är nymånen här. Nymåne betyder nymånesvatten och denna gång ska jag ladda mitt med en alldeles speciell intention.